European QuakeCTF



* Hall of Fame *
- by Ebola

I've added clan HUX to the * Hall of Fame * !
HUX won the Icelandic Q3CTF championships... Congratulations HUX ! :)

You can find the Hall of Fame * Here *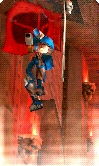 [*] Top of Page

Q3CTF

Icelandic Championships
HUX Victorious ! - by Ebola

Last weekend the Icelandic IQ2k tournament took place (quake3) In the CTF / CCTF tournament Icelandic clans like ICE, Hux, PhD, K, Murk did compete... Clan Hux won the final versus Clan ICE.
- íslandsmót í quake 2000: [ iq2k ] [brackets]

Related clan links: Clan Hux - Clan ICE

Hux icelandic ctf champions! - by [hux]dael

The icelandic quake 3 championships were held this past weekend. Hux managed first place in dmtp and ctf. In the ctf finals we played ice-a. the first game was played on q3wctf1 and went 0-0 (big surprise there eh?:) we won the second game 2-1 on q3wctf2 and we won the third game as well with final score at 4 - 1.


Q3CTF
Icelandic Championships
Champions
June 25 2000





clan
HUX