European QuakeCTF



* Hall of Fame *
- by Ebola

I've added clan ICE to the * Hall of Fame * !
ICE won the Icelandic Skjalfti2|2000 Q3CTF Tournament... Congratulations ICE ! :)

You can find the Hall of Fame * Here *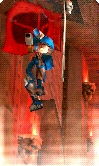 [*] Top of Page

Skjalfti2|2000

Q3CTF

ICE Victorious !
- by Ebola

Clan ICE won the Icelandic Q3CTF Skjalfti2|2000 Tourney held in Reykjavik in the weekend of May 20/21. ICE defeated PhD in the final... PhD is second.
Every year there are 4 Skjalfti tourneys held in Iceland in wich all the Icelandic clans come together and compete in Quake3 (used to be Q2). This time (Skjalfti2|2000) there were over 250 attendees. Iceland's biggest clans were all there sporting their strongest teams. (CTF, DMtp, 1on1).

Related clan links: Clan ICE - Clan PhD

Agustkr from clan Ice has put up 9 spectator demos from the big screen at the skjalfti|2|2000 tourney: [demos]

A Little More On SkjŠlfta2|2000...
- by Caitiri @ www.gamepig.com
If you are curious about the SkjŠlfta2|2000 Icelandic tournament that happened over the weekend, they've now put up the [brackets] for all the games played.

More SkjŠlfta2|2000...
- by tyl3nol @ challenge-eu
It turned out to be very exciting. Many games went into sudden death but in the end ICE came out of the losers bracket to beat PhD twice in very even matches, taking the whole thing. Very impressive performance by ICE, who only lost once all tournament (they lost to clan K, but came back to beat them in sudden death).
Iceland Q3CTF
Skjalfti2|2000
Champions



clan
ICE